Nike Dunk High sizing & fit
Nike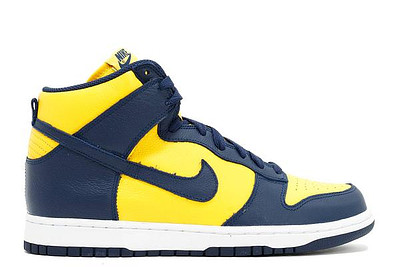 Do Nike Dunk High run big or small?
Just tell us which shoes in which sizes you wear and we'll tell you whether Nike Dunk High run big or small for you.
Get a personal size recommendation
Released in 1985, mere months after the Air Jordan I, the Nike Dunk High was designed as a shoe for college basketball teams.
The Dunk High was created for NCAA basketball players and their fans. Its first marketing campaign, "Be True To Your School," was an attempt to capitalise on the rising popularity of collegiate leagues as cable TV brought college basketball games to the masses. The concept was to provide successful college teams with color coordinated basketball shoes and then market these shoes to the fans and allow them to support their favorite team wearing matching sneakers.
Designed by Peter Moore, the Dunk combined the elements from some of the Nike's best hits - the Air Jordan 1, the Nike Terminator, the Air Force 1, and the Nike Legend.
In fact, the shoe was originally called the College Color High but the release coincided with the 40th anniversary of the "first" slam dunk, which led to a last-minute name change.
The original 12 colorways were those of top basketball schools, including UNLV, Iowa, Arizona, Georgia, Kentucky, Syracuse, and Georgetown.
Eventually, the skateboarding community started to favour the silhouette. Nike introduced small changes to the Dunk over the years, including a nylon tongue to reduce weight, a shorter shaft and a bigger, thicker swoosh, which made the shoe all the more appealing to skaters.
It started out as a second fiddle to the AJ1 but the Nike Dunk went a long way from a basketball shoe to the first unofficial skate shoe to an iconic fashion sneaker.
Nike Dunk High sizing compared to 1116 other shoes