Nike Air Max 1 sizing & fit
Nike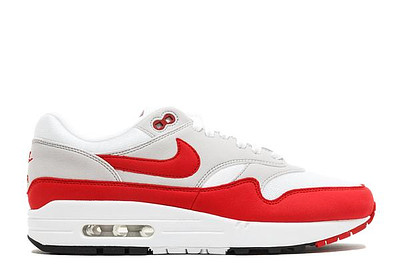 Do Nike Air Max 1 run big or small?
Just tell us which shoes in which sizes you wear and we'll tell you whether Nike Air Max 1 run big or small for you.
Get a personal size recommendation
Released in 1987 as simply the Air Max at that time, the Air Max 1 was the first shoe in the Nike Air Max line.
The Air technology featured in the Air Max 1 was brought to Nike by former NASA engineer Frank Rudy. Mr. Frank Rudy figured out how to pump up inert gas into urethane pouches that could be slotted into sneaker soles. The Air technology was first introduced in Nike's Air Tailwind in 1978 replacing traditional EVA molded soles, and until the Air Max 1 it was the consensus that the air bubbles should be hidden in the sole.
One can't tell the story of the Air Max 1 without first introducing its designer, Tinker Hatfield. He was hired in 1981 and worked as a corporate architect to build Nike's spaces until a few years after when Hatfield joined Nike's design team. Who would have thought at that time that Hatfield would be the one to start one of the most successful sneaker lines in Nike's portfolio?
So Nike's Air program existed long before the Air Max 1, but it was Tinker Hatfield who came up with the idea to cut that tiny window in the sole to expose the cushioning technology for the world to see.
What influenced Hatfield to create this daring design (as well as the first colorway of the Air Max 1) was the Pompidou Centre in Paris, which he saw during his trip to France. The building design took all of its structural elements and placed them on the outside of the building for people to see. Everything from the electrics to plumbing and staircases was placed on the outside. Just as the Pompidou architects revealed the magical inner workings of the building, Hatfield decided to do the same with Nike's next sneaker by cutting a tiny window in the sole and making the Air Max cushioning system visible.
When the designer got back from France and presented his idea, everyone at Nike hated it. However, Hatfield found an ally in the Director of Cushioning Innovation, David Forland, and the Air Max 1 was born soon after.
Cutting that Air window in the sole was a gamble for Nike, but it certainly paid off and the line went on to boast other notable silhouettes like the Air Max 90, Air Max 180, Air Max 93, Air Max 95, Air Max 97, Air Max 2003, Air Max 360 and Air Max 2015. All of those shoes featured the encapsulated Air sole units.
Nike Air Max 1 sizing compared to 1384 other shoes