Nike Air Max 97 sizing & fit
Nike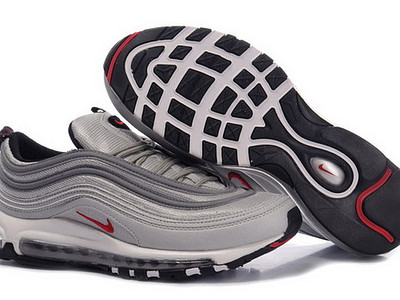 Do Nike Air Max 97 run big or small?
Just tell us which shoes in which sizes you wear and we'll tell you whether Nike Air Max 97 run big or small for you.
Get a personal size recommendation
Since the Air Max 1, the Nike line's hits were remarkable but that also put a lot of pressure and anticipation on every new release. The Air Max 97 was tasked to outdo its predecessors and become the next great running shoe. Now we can attest that its designer Christian Tresser certainly delivered.
While the sneaker was said to be inspired by the Japanese bullet trains, that turned out to be a marketing tag. In reality, Tresser was inspired by mountain biking, being a lifelong fan of the sport. But you gotta admit, "silver bullet" sounds cooler than "silver bike".
The Air Max 97 was Nike's first shoe that introduced full-length air as well as a hidden lacing system.
Since its first launch in 1997, the design of the Air Max 97 seems to draw both fans and critics. Some people love the unique futuristic look of the Air Max 97 while others despise "the dad look". It should be noted that the shoe's popularity is partly connected to Italy, where "Le Silver" became a countrywide cultural phenomenon and a decade-long obsession.
Nike Air Max 97 sizing compared to 1126 other shoes